Who We Are
The Twin Cities' Metro Area Team is a part of Bread for the World, a collective Christian voice urging our nation's decision makers to end hunger at home and abroad.
We write to Congress to advocate for social justice to eliminate hunger and poverty.

Links

News


The Twin Cities Workshops:
Hunger - NO More!!
Hunger - KNOW More!!

Our 3 workshops were a success!
Read about them on our Workshops page here.

Contacts

You can CONTACT our regional organizer:

Matt

Gross

205 W. Monroe, Suite 311

Chicago, IL 60606

Direct – 773-828-4805

Cell – 312-731-6492

Toll Free – 1-800-447-0BFW

mgross@bread.org

Need a speaker for your program? contact

Donna Neste



3rd Congressional District (Erik Paulsen's district) contact

Carol Dubay



4th Congressional District (Betty McCollum's district) contact

Vernita Kennen



5th Congressional District (Keith Ellison's district) contact

Marty & Dottie Fergus



6th Congressional District

(Michele Bachmann's district)

contact

Ed Nieman



Live in district 2? Contact Ed (below) to be a contact person!

TEAM COORDINATOR:

Ed Payne


Thanks to Ed Payne for making this web site possible.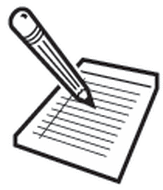 **********************************************************
Another letter published in the
Star Tribune
July 11, 2013:
"Farm Bill"
Attacks on food aid are risky, unwarranted
For many months, I have been dismayed about the proposed cuts to food stamps. The GOP now has talked about splitting the farm bill between farm programs and food stamps. Apparently the idea is to facilitate even larger cuts. On the other hand, the June 14 commentary "Hunger: Our leaders need to feel the pain" clearly explained the importance of the Supplemental Nutrition Assistance Program. Usage of the SNAP program has risen dramatically in recent years, primarily because of the bad economy. Yes, the program is working just as designed — more people receive benefits when more people need them. Even here in Minnesota, one in eight have struggled to afford food during the previous 12 months (Food Research and Action, February 2013). Our churches and charitable organizations simply cannot take up the slack. If SNAP is cut, people will go hungry.Despite frequent anecdotal accounts, the SNAP program is not fraught with errors and abuse. According to the USDA Food and Nutrition Service, error rates are low, and trafficking (the exchange of benefits for cash) has been reduced from 4 percent to 1 percent. Furthermore, the program does not create dependency. Participants are on the program for an average of nine months.
CAROL DUBAY, Eden Prairie
See this link and others to more letters, below.
Local Members write Letters to the Editor
"Yes, speak up for the poor and helpless, and see that they get justice."
Prov. 31:9 - New Living Tr.
"Farm Bill" by Carol Dubay
http://www.startribune.com/opinion/letters/214989261.html?page=all&prepage=1&c=y#continue
"Food Aid" Letter of the Day by Marty Fergus
http://www.startribune.com/opinion/letters/211628211.html
"Protect Nutrition Programs" by Donna Neste
http://www.twincities.com/opinion/ci_23346930/role-parents
"Bad Approach on Debt" was written by Marty Fergus
www.startribune.com/templates/Print_This_Story?sid=107585258
"Food Stamps" was written by Donna Neste
www.startribune.com/opinion/letters/155836075.html
"George McGovern" was written by Tammy Walhof
www.startribune.com/opinion/letters/175315811.html
"The Ryan Budget: The costs of cuts vs. the costs of inaction" written by KarenFitzpatrick.
www.startribune.com/opinion/letters/144466905.html

*********************************
---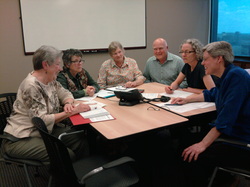 Our Metro Team calls Senator Klobuchar's office on May 7th regarding the Senate's actions within the next few days as we advocate for those in need.
L to R: Vernita Kennen , note taker (Metro Bread Team, 4th District coordinator), Donna Neste, Neighborhood Ministries Coordinator, Mt. Olive Lutheran Church (Metro Bread Team and member of the Bread for the World national Board of Directors), Carol Dubay, Facilitator (Metro Bread Team, 3rd District Coordinator), Ed Payne, Twin Cities Metro Bread for the World Team leader, Sara Nelson-Pallmeyer, Executive Director, Minnesota FoodShare, Tammy Walhof, Bread for the World, Senior Regional Organizer, Upper Midwest office. Joining us on the conference call was Rev. Peg Chemberlin, Executive Director, Minnesota Council of Churches.
We talked with Elizabeth Frosch (Senator Klobuchar's aide for food and nutrition issues). After introducing ourselves, Rev. Chemberlin spoke to how our faith influences our reasons for standing for both charity AND justice, quoting Isaiah 58. She urged policies which make for the common good and reduce poverty. She urged continued effective measures with no divestment. Our main messages were to protect and strengthen SNAP (formerly food stamps); to not let cuts be made to the program; that churches and charities
cannot
make up the difference and people will be left hungry. We stressed the importance of food targeted to the nutritional needs of women and children, especially in the first 1,000 days of a child's life from pregnancy to age two. And we asked her to adopt the Food Aid reforms proposed by the Administration. We all talked in turn stressing various points which support the need for strong federal supports such as SNAP.
Elizabeth said that the Senator's position is to "maintain the bill here in the Senate" which include cuts to SNAP. We emphasized that NO cuts to SNAP are acceptable and that Senator Klobuchar should work against the rhetoric of fraud and waste in the SNAP program. Tammy asked if Elizabeth would join us and closed our call with prayer before our final thank-yous.
To write YOUR letter,
CLICK HERE!
---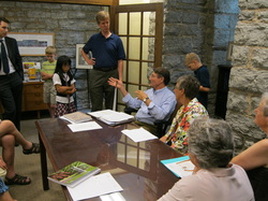 Today's and Tomorrow's Voters Visit MN Representative McCollum's Office
Fourteen people, including three pre-teens, visited the local office of MN Representative Betty McCollum during the August recess. They urged her to continue nudging her House colleagues to remember those they represent who are people living with poverty and hunger. The young people explained their concern using a visual they had made showing how little of the federal budget goes to help people in need. The group urged Rep. McCollum to remember to keep the "Circle of Protection" around specific programs which provide the most effective help to those with less means than most of us but who are may be members of her constituency and are certainly all God's children. The meeting with Legislative Director, Peter Frosch, was one filled with issues, listening, personal stories, encouragement from all sides, and a sense of being of one mind about the needs and some of the solutions. Fourteen people went home feeling empowered and willing to visit this office and the offices of senators again.

---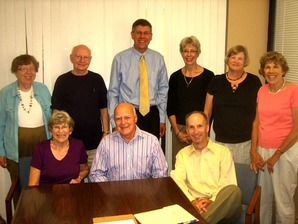 Bread members visit Rep. Erik Paulsen
Eight of us took advantage of the August and Labor Day recess for Congressman Paulsen and visited with him in his district office. Congressional surveys have shown that the only type of contact better than a handwritten letter is a personal visit. Our district coordinator, Carol Dubay, arranged the meeting for September 5th and contacted each of us to meet a few minutes ahead of time in order to plan what we would emphasize. Of course, we framed our discussion in terms of the Circle of Protection for the poorest among us. But since the Congressman is on the committee that makes decisions on taxation, we emphasized the need to maintain the benefits of the Earned Income Tax Credit and the Child Tax Credit programs. He stated that he is helping the Secretary of Agriculture to broaden his contacts in the House in order to expand our development projects overseas. And he also said that he is working on legislation to let home-bound seniors use their SNAP benefits to pay for groceries provided by delivery services. This is the second meeting we have had with the Congressman in his local office and we hope it is a sign of many more to come.
Pictured, front, l to r: Audrey Johnson, Ed Payne, Brad Pepin; pictured, back, l to r: Gerry Peterson, Dick Johnson, Rep. Paulsen, Judy Waeschle, Carol Dubay, Lois Troemel.

---
*************************************************
The Movie: A Place at the Table -- a review &
rental / purchase / free viewing info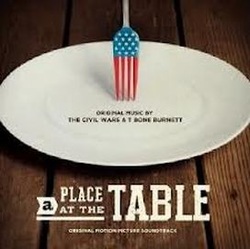 Vernita's comments:
If you are a frequent movie-goer or even someone like me who only goes to see something very occasionally, I have a recommendation for you. "A Place at the Table" is a new movie which is currently showing in some local theaters and also available on itunes and On Demand for home viewing. (The local reviews have been three stars and more). It is also a movie which directly coordinates with the
Bread for the World 2013 Offering of Letters
which uses the same theme. This documentary tells the story of three people from different parts of the United States, each struggling with food insecurity
--
a single mother, a fifth-grader, and a second-grader with health issues. The stories are interwoven with insights from experts
--
sociologist, author, nutrition policy leader, teachers, activists and ordinary citizens. Each of the presentations helps us see how in the past 40 years the U.S. has gone from being a country with little hunger to a country where today 50 million people don't know where their next meal is coming from. That number includes one in four children! No, the movie is not another downer; it is hopeful in showing how our country, filled with our God's abundance,
can
provide for our hungry people. The movie helps us understand that
we
, as American citizens can and must decide to prioritize ending hunger by making healthy food available and affordable. We can do it
--
it will be good for everyone, for the future, and what God requires of us.
---
Watch the trailer
at:
http://www.bread.org/ol/2013/a-place-at-the-table/
4 Ways to watch it at home:

1- You can buy it for under $19 from amazon.com with shipping included.
2- You can rent it from amazon for $3.99.
3- You can rent it as part of a Netflix account (Netflix.com) which costs $7.99 per month to stream any movie and you can also rent any dvd and have it mailed to you for an additional $7.99 per month.
4- You can also rent it through iTunes (the account is free:
http://support.apple.com/kb/ht2731
) for $4.99. You must start watching it within 30 days of rental and finish it within 24 hours.
5- Have a house party and invite me (
Ed Payne
) and I'll bring it for
free!
DO IT!! HAVE A HOUSE PARTY! I'll bring the popcorn.
*****************************************************
A CIRCLE OF PROTECTION -
Why we need to protect programs for the poor:
1. The nation needs to substantially reduce future deficits, but not at the expense of hungry and poor people.
2. Funding focused on reducing poverty should not be cut. It should be made as effective as possible, but not cut.
3. We urge our leaders to protect and improve poverty-focused development and humanitarian assistance to promote a better, safer world.
4. National leaders must review and consider tax revenues, military spending, and entitlements in the search for ways to share sacrifice and cut deficits.
5. A fundamental task is to create jobs and spur economic growth. Decent jobs at decent wages are the best path out of poverty, and restoring growth is a powerful way to reduce deficits.
6. The budget debate has a central moral dimension. People of faith are asking how we protect "the least of these." "How do we share sacrifice?" "How do we make 'Justice flow...'"
7. As believers, we turn to God with prayer and fasting, to ask for guidance as our nation makes decisions about our priorities as a people.
8. God continues to shower our nation and the world with blessings. As believers, we are rooted in the love of God. Our task is to share these blessings with love and justice and with a special priority for those who are poor.